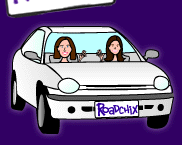 Four Corners
Mesa Verde
Police Run-In
UFO Tower
Police Museum
Trail Ride
Garden of the Gods
Largest Hercules Beetle
Celestial Seasonings Tea
Morrison Ghost Tour
Coors Brewing Co.
Roadchix at a High Altitude
(2,000 Miles Through Colorado)
The most popular question asked when I told anyone that the Roadchix was off to Colorado was always, "Where are you going in Colorado?" The answer: Everywhere. As is always the case, this trip was better than the last and we can only hope that this continues. Please follow the trail below from Four Corners to the Jeep Adventure to experience our road trip through Colorado.