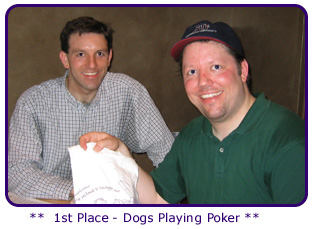 Freak tornados? Nope. Not today. We had great weather for the 2nd Annual DC Scavenger Hunt - Outdoor Art Adventure. These year's goal was again to accumulate 100 points first, but the featured sites were 19 wacky and zany pieces of artwork throughout the city.
Our first place team, 'Dogs Playing Poker', raced in with our fastest time ever at 1 hour and 5 minutes. We had fewer people this year, but more fun than ever. Thank you to everyone who participated.
Below are the results. This year we asked every team to name themselves after a piece of artwork - ANY piece of artwork!