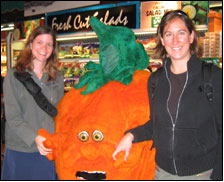 Welcome to Roadchix, the Roadtrip Adventures of Two Chicks. We began our adventures back in the summer of 1998 by traveling around the country for seven weeks. That taste for adventure started us on a 50 state mission.


Our plan: to thoroughly explore every state for roadside attractions, factory tours, presidential landmarks and everything in-between. Every year we travel to a new state and then post our latest adventures.

We hope you enjoy hearing our stories and we always love to hear yours. Please e-mail us with suggestions, stories and ideas at kristyandbeth@roadchix.com.